WHAM BAM HEY HO LOOK IT'S MORE COOKIES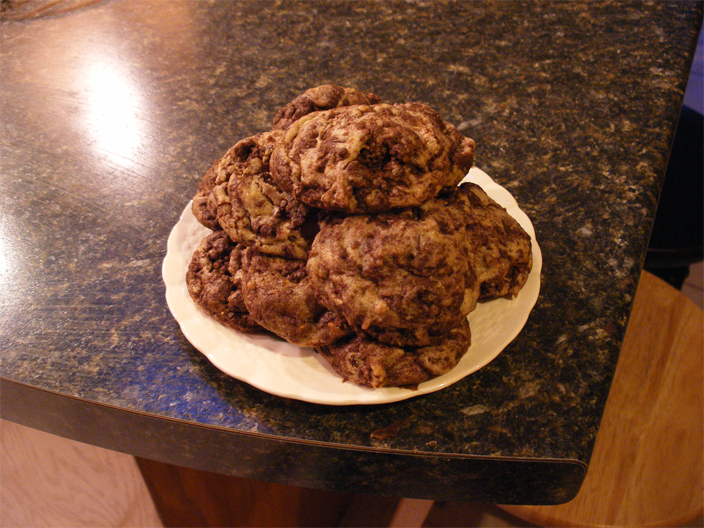 TAKE: 1/2 cup butter, 1/4 cup smooth peanut butter, 1/4 cup chunky peanut butter, CREAM TOGETHER on high in a mixing bowl.
ADD: 1/2 cup white sugar, 1/2 cup packed brown sugar, BEAT until combined
BEAT IN: 1 egg, dash vanilla, 2 dashes baking powder.
---PARTITION BATTER IN HALF---
--FIRST HALF
INCORPORATE: 1/2 cup flour, 1/2 cup chocolate chips
MIX, SET ASIDE
--SECOND HALF
INCORPORATE: 1/2 cup cocoa powder, 1/2 cup flour
MIX, SET ASIDE
ROLL OUT the chocolate dough (should be stiff) on parchment paper, to 1/6 inch thick. DUMP the chocolate chip dough on the chocolate dough, and spread it around. USING THE PARCHMENT PAPER AS AN AID, ROLL UP both dough together. Form the resulting log into a ball, as you would to shape a loaf of bread, by pulling it down and pinching it together in the back. REPEAT this motion a few times, until you've got some nice marbling happening.
PLACE neat little balls of dough onto parchment which is itself on a baking pan, then bake at 350ºF for seven minutes if you flattened the cookies, nine minutes if you left them as balls.