A week ago we hosted a vegan potluck at my place, which went fairly well. For it I baked a pizza, made an attempt at fatayers which ended up more like samosas, and constructed two strawberry-lime pies.
The pies turned out too tart because I didn't add enough sugar (I actually forgot to buy white sugar and didn't want the flavour of brown sugar mucking around in there), but they were tasty nonetheless.
For two pies, you need
:
Throw five cups of the sliced strawberries in a pot with the lime juice, and simmer, mixing occasionally, until you're getting a thicker sort of thing. I'm going to just go ahead and guess that this took about half an hour. Mix the cornstarch in the water well (no lumps!), then add to the simmering strawberries. Add the sugar as well, and whisk that pot all together, and keep on simmering until it's thickened a bit more.
While that's thickening, place the remaining four cups of sliced strawberries in the two baked pie crusts. Once it's done, pour the filling on top of the sliced strawberries, then arrange the layered strawberries on top. Cover and refrigerate until set, ideally at least two hours.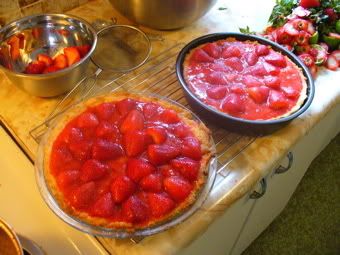 Bigger pictures if you click the images, because strawberries look awesome.
Man, that was a
lot
of
strawberries
. All those measurements are measurements after being cut, so I don't even want to guess what the volume would have been before chopping them up.
The filling came out a little too thin/runny, so I think a little more cornstarch might be in order next time. Perhaps less lime juice as well; one cup should have been fine.
I didn't add any sugar to the filling when I made it, so I ran to the store and gave a serious sprinkling of sugar to the filling before laying the halved strawberries down, leaving one pie okay and one still just too tart. A quarter cup is a guess at what would be appropriate based on how much I used and how they came out.
When cutting the strawberries, try and save the nice, regular ones for the top of the pie.