Well, that apple-banana pie I made a while ago had too much banana flavour in it, so I came up with something better: apple mango!
It is pretty much the same recipe as that pie, except:
This worked out wonderfully! Instead of banana permeating every bite, the mango only shoes up from time to time, and it adds it's own texture with the chunks that are still left.
I actually ended up discarding some of the mango, but only the parts near to the outside which didn't mush easily under the force of my hands.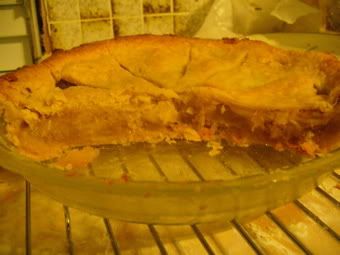 Also, I made the pie crust with the juice of a half dozen strawberries, which made a gleefully pink dough, which tragically did not carry through to the end result.