I haven't really had anything I could call a 'failure' for a while, so tonight, I'm trying something silly that I don't think will work. Instead of making another apple-strawberry, I'm making apple-banana pie!
Banana has a way of being a jerk at parties and monopolizing the conversation and talking about it's interests in a really loud voice while everyone else is just trying to chill. I've tried to get around this by skinning one banana alive, then mashing it to little bits. Also, by only using one banana.
Need:
Chop up the apple, toss it with the lemon juice, sugar, and cinnamon, let macerate for a while (half hour-three hours). Cook it in a fry-pan over medium heat for maybe five to ten minutes; until they're getting cooked but well before they start to try and be apple sauce.
Strain the apples, and return the juice to the pan, where you'll hit it with medium-low-medium heat, swirling to prevent burning, until it's boiled down to a syrup and smells a bit like caramel. Pour the syrup over the apples and toss them to coat evenly. Then, mash that banana to a pulp, and toss it in with the apples. Let this mixture sit while your housemate is using the oven to make an obscene amount of roasted veggies. Go read a book or update your website or something.
Roll out a pie crust, put the stuff in, and bake until done. I'm guessing this'll be forty five minutes, I haven't actually cooked the thing yet.
Here's what it looks like right now: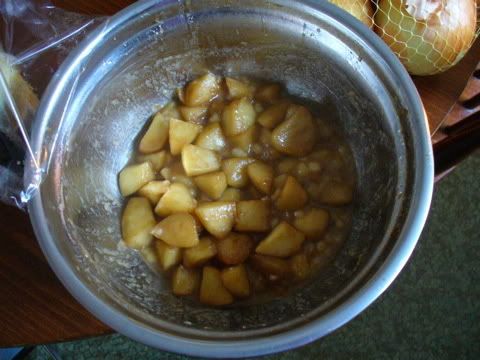 (SEXY) RESULTS:
Fairly delicious pie, a little heavy on the banana flavour, but that's what happens when you use banana. Either I didn't add as much cinnamon as I thought, or it got burnt away when I reduced the syrup, because that flavour was lost, when I was hoping it'd help moderate the banana potency.
On the bright side, this did give the filling an excellent consistency and it didn't fall apart at all, making it ideal for on-the-go applications, such as my hopefully more rugged next incarnation of turnovers.