We are kind of living an exercise in frugality right now, so the question of the day was how to feed two people with the one chicken breast left in the freezer. The answer: samosas! These are essentially dough packets, stuffed with a fairly dry potato & chicken curry. None of the samosa recipes I referenced called for either eggs or yeast in the dough, but I love the yeasty taste in dough and I thought an egg would give us a richer pastry, so that's what I did. Samosas, as I interpret them, are just some sort of curry dish stuffed in some sort of pastry, and this is what I came up with.
Dough:OK, proof the yeast in the warm water with the sugar in some sort of proofing vessel (like a bowl!). When it's floated up from the deeps, add 1/2 cup of the flour, mix well, cover, and set aside for an hour in a not-cold place. When that's done, it should be bubbly and alive, so add the oil and egg and mix well. Add a cup of the flour, mix until it forms a raggedy messy mass, then work in the rest of the flour until you've got a nice feeling dough. Knead well for at least ten minutes, because you do want this dough to be stretchy, strong, and workable. Form it into a ball, and let it rest & rise while you fix the fillings.
Filling:Cut the potatoes into 1/4 inch cubes and parboil them for five minutes. Put the oil in your cooking pan, add the mustard and heat it up. When the mustard seeds are crackling and popping, it's ready for the garlic and ginger, which should be minced together, and, if you have it, mashed up in a mortar and pestle. Fry the garlic and ginger for about thirty seconds, then add the garam masala and chili flakes. Toss in the chicken and onions, and when the chicken looks cooked on the outside, through in the chopped carrot and potatoes. Fry a little longer, then add the stock and let cook uncovered. Once the stock has all cooked away, it's ready to go! Let this stuff cool while you prep the dough.
Defleat then divide the dough into six equal portions. Form each piece into a ball and roll out into a big circle, about an eighth of an inch thick. Keep the rolled circles covered to prevent them from drying out, as this makes them more difficult to handle. When they're all rolled, Cut them in half, place stuffing on half of each half, leaving a border and fold over, stretching the top flap as necessary to fit over the filling. For those of you in Waterloo, this makes them in the style you get at Farah's foods. I have an certain fondness for those ones because of all the times I've wandered from the MC to Farah's at 4:00AM looking for matlab fuel. Diagram (grey is filling, fold from left over right):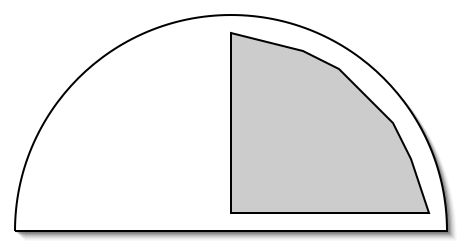 Bake in a greased pan or just on parchment paper at 350F for 20-25 minutes, until the pastry is cooked.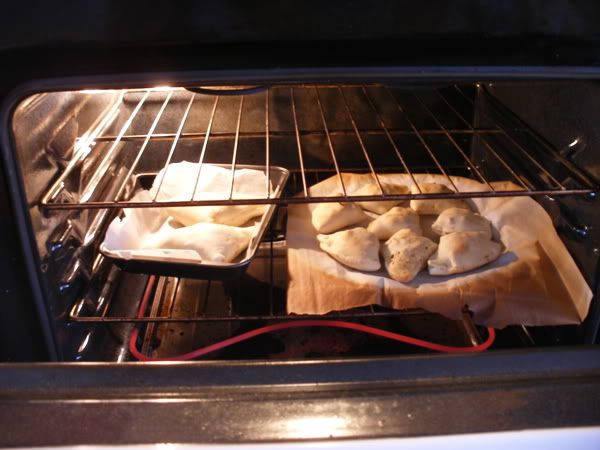 I did two sizes to see how they'd go. I ate three of the tiny ones for lunch, mum had two. The bigger ones might be good for a breakfast or lunch on their own. I'm having one of the big ones for breakfast tomorrow, and the other big one is in the freezer, and mom will eat it for lunch on Saturday. Part of this experiment is to see how well these things freeze for re-heating, so I'll update when the frozen ones are consumed.
Post-analysis on the samosas has determined that the filling could have been a bit tastier. Maybe more spices would of helped, or more garlic or ginger. If you think that you can make a better curry than me, you probably can. I am OK at curry but not great. If you deviate, just remember that you want your filling to be fully cooked and edible before baking. Mom thinks they'd be better if they were a little wetter inside, so perhaps it might be an idea to add a bit more stock and then thicken it up with some starch or flour.
The dough is also a little cakey in the crumb. I'm OK with this, it is the product of my yeasting and egging it. The dough would be OK without those, though, if you don't like the texture.